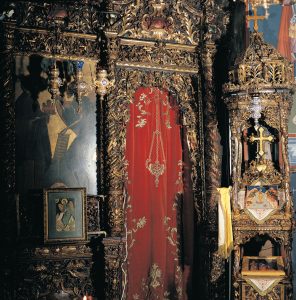 Panagia Ikosifinisa, with the Impalpable illustration of Holy Mary, is one of the biggest pilgrimage spots in Macedonia and the oldest active monastery in Greece and indeed Europe!
Although it is located in the border line of Serres and Kavala, in the wooded mountain of Pangeo and in 753m altitude, the administration belongs to the Cathedral of Drama.
The founding of the monastery is hard to trace over the centuries. A great number of folk tradition claims that while practicing his ascetic life the monastery of Agioos Ioannis Prodromos in the river Jordan, Agios Germanos had a vision and left Palestine. The vision, presented to him by an angel, drove him to Vigla site, mount Pangeo in 518 A.C. Once he completed the building of the first chapel, Agios Germanos took a walk in the nearby forest looking for a piece of wood in order to depict the figure of holy Mary, as a gesture of gratidute. As he finished processing the wood and just before he started painting on it, the wood cracked, leaving the holy man disappointed. It was then that a bright red light, "finikoun" in ancient Greek, covered the piece of wood and the talking image of Holy Mary and Jesus appeared before him. "Don not despair for I am here for you", said a voice and the figure of Holy Mary was miraculously printed on the wood. And that is how the illustration and thus the monastery took it's name (ikon + finisa)
The monastery celebrates three times a year : on August 15th ( the Sleep of Virgin Mary), on September 14th (celebration of the finding of the Holy Cross) and November the 21st (Isodia).
Public hours: Monday to Sunday, 05:00 – 14:00 & 17:00 – 19:00
Telephone: 25920 61566
Distance from the Hotel: 30km