HYDRAMA GRAND HOTEL offers a choice of conference facilities with rooms that can accommodate up to 240 participants for conferences, events, galas and cocktails. The halls have natural lighting and offer a unique lake view!
The "Spierer Conference Hall" can be divided in two rooms, the East Room and the West Room.
Both rooms are equipped with the latest hi-tech products and anatomical seating for the optimum performance of the attendants.
If required the conference hall can be darkened.
Download Conference & Events Factsheet
Wedding Parties
At HYDRAMA GRAND HOTEL we care for the most important moment of your life!
We are ready to offer you a unique experience by organizing for you, both the wedding party and the ceremony of your Civil Wedding! Always guided by your own desires, we can offer you dreamy moments combining experience, knowledge and professionalism! We are honored for being part of your special occasion and we return the favor by launching your special day to the sky!
CONTACT
Capacities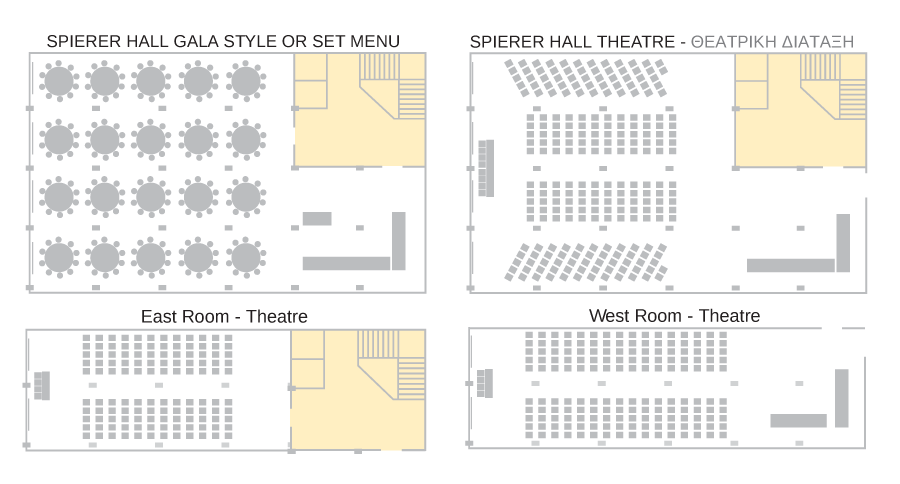 | CONFERENCE ROOM | U Shape | Hollow Square | Theatre | Classroom | Workshop | Cabaret | Gala Style / Set Menu | Cocktail |
| --- | --- | --- | --- | --- | --- | --- | --- | --- |
| Spierer Hall | - | - | 240 | 140 | 240 | 90 | 180 | 240 |
| West Room | 30 | 38 | 160 | 90 | 180 | 50 | - | 160 |
| East Room | 30 | 38 | 120 | 70 | 140 | 50 | - | 120 |
| Office | 9 | - | - | - | - | - | 10 | - |
| 1+1 | - | - | - | - | - | - | 8 | - |
| Roof Garden | - | - | - | - | - | - | 60 | 100 |