HYDRAMA GRAND HOTEL offers a choice of conference facilities with rooms that can accommodate up to 240 participants for conferences, events, galas and cocktails. The halls have natural lighting and offer a unique lake view!
The "Spierer Conference Hall" can be divided in two rooms, the East Room and the West Room.
Both rooms are equipped with the latest hi-tech products and anatomical seating for the optimum performance of the attendants.
If required the conference hall can be darkened.
Download Conference & Events Factsheet
Wedding Parties
At HYDRAMA GRAND HOTEL we care for the most important moment of your life!
Every wedding party is a unique event! We are honored for being part of your special occasion and we return the favor by launching your special day to the sky!
CONTACT
Capacities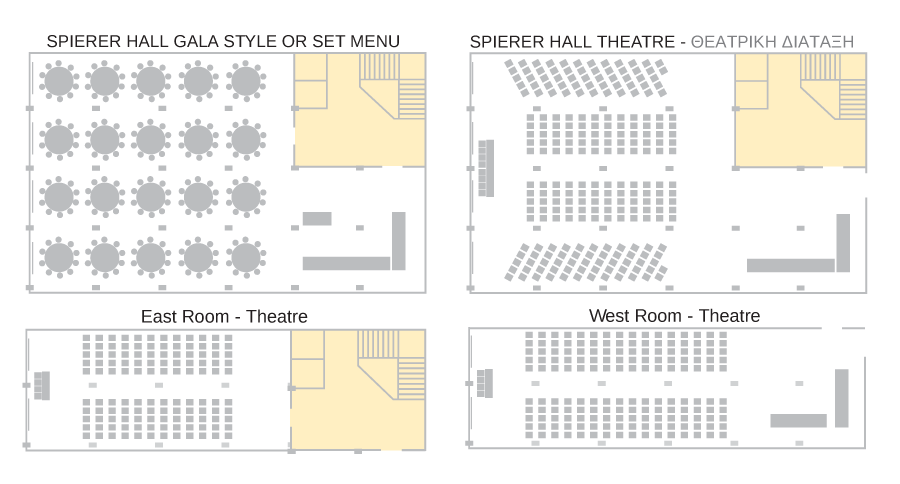 | CONFERENCE ROOM | U Shape | Hollow Square | Theatre | Classroom | Workshop | Cabaret | Gala Style / Set Menu | Cocktail |
| --- | --- | --- | --- | --- | --- | --- | --- | --- |
| Spierer Hall | - | - | 240 | 140 | 240 | 90 | 180 | 240 |
| West Room | 30 | 38 | 160 | 90 | 180 | 50 | - | 160 |
| East Room | 30 | 38 | 120 | 70 | 140 | 50 | - | 120 |
| Office | 9 | - | - | - | - | - | 10 | - |
| 1+1 | - | - | - | - | - | - | 8 | - |
| Roof Garden | - | - | - | - | - | - | 60 | 100 |